Congratulations on your decision to commit your life to Christ!
Your decision to follow Christ was just the first step into a life-long, intentional journey of embracing the dynamic journey of your new walk with God and becoming his disciple.

You are probably wondering, "What do I do now?" To help you get started on that journey, we have two resources designed especially with you in mind and geared toward helping you take your next step.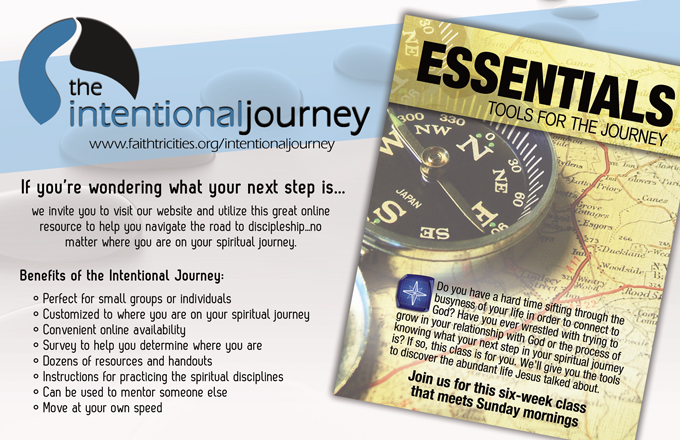 Essentials: Tools for the Journey
class is for new believers and Christians. This study & discussion will give you the tools to discover the abundant life Jesus talked about.
Click here
to find out when this class meets.
The
Intentional Journey
is an online tool to help you
gage
and navigate the road to discipleship. Click here to visit the
Believer of Jesus pathway
.
Learning to walk with God is essential to your new relationship with him. Too often, however, we are not comfortable with a God who invites us to walk with him. We'd rather control him and appease our fears. So rather than engage in life-giving communion with him, we opt for other ways of posturing through which we try to manipulate, use, cajole, or appease him. In this video Skye Jethani lists five different ways of relating or approaches to God. Four of them have to do with us being in control of our lives all with the hopes of making God more manageable and safe. The last option shows us how to accept God's invitation to a life WITH him.